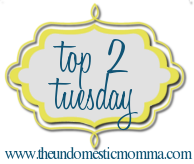 This week's Top Two Tuesday is celebrity hairstyles.
Ever since I cut my hair short, I miss my long locks. Now that it's in the growing out stage (to my shoulders already!), I've been searching for the perfect hairstyle once it gets a bit longer.
My top two favorites are:
Anna Kendrick
I always appreciate another gal with curly hair, and her hair makes me wish mine would hurry up and grow.
My second pick is Scarlett Johansson.
(via)
I love the effortless look of her wavy hair, whether it's long or short.
Whose hair do you love? Feel free to tell me in the comments, or click the "Top Two Tuesday" button above and join in the fun!